I like the art on the new "Secret Lair" version of this card and I'm excited that I'll finally be using it soon...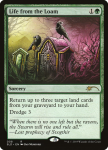 Where to start? Life from the Loam is one of my personal favorites, but it's also one of the all-time great Magic cards. And I don't know how to properly convey that. In tournament play, it's been a format-defining staple in every format that it's ever been in, and yet it has never been at risk of a ban or restriction in any format, never come close to creating a metagame dominated by itself. And this has been not merely as a best-in-slot utility spell like Lightning Bolt, but as a build-around card advantage engine centerpiece. That kind of tempered, universal success is extraordinary. For reference, nothing else I've started a "Magic Memories" thread on comes even close. Actually, I'm at a loss to name
any
cards that have been quite as great as build-around engines in so many diverse decks, in so many formats, for such a long time, all without being seen as too dominant throughout their history. Obviously Necropotence is a great card advantage engine and another of my personal favorites, but it's also been totally broken. The best example is probably Dark Confidant, but I'd argue that Life from the Loam has been considerably more prominent for most of its history than Dark Confidant.
Life from the Loam has been a competitive force in 9th Edition Standard, 10th Edition Standard, Extended, Legacy, Vintage, Modern, Commander, and pretty much any other variant format you could name for which the card is available in the pool. It's probably even good in
Ultimate Masters
drafts or something. It's had dedicated decks named specifically in reference to the card, such as "Loam Control", "Aggro Loam", "4C Loam", "Confinement Assault Loam", and "Retrace Loam." It's also been engine powering almost any deck in Legacy with "Lands" in the name, like "43-Land", "RG Combo Lands", and simply "Lands." And then of course it's key to Dark Depths combo decks, both the more disruptive "Depths" versions and the speedier "Turbo Depths" versions. It's a toolbox card appearing in "Maverick" decks that are primarily based around Green Sun's Zenith, and in some various non-blue control decks as well. And then of course it has appeared a lot in "Dredge" decks that are based entirely around the Dredge mechanic itself. While the Ichorid-based versions in Vintage and Legacy don't bother with cards that have anything less than Dredge 4, that hasn't been the case in slower formats, and Life from the Loam has been a Dredge mainstay in other formats.
There are a lot of ways to use Life from the Loam. I'm sure that includes some I've never thought of. So I think it could be interesting to review what makes this card so special...