Link to the video:
This is an older video series, pre-F.I.R.E. design philosophy, that ranked all the cards in Magic. No sideboard cards (Leyline of the Void, elemental blasts, Null Rod, Pithing Needle, etc. don't count apparently). There is some importance placed on how good cards were historically e.g. Cursed Scroll, Mind Twist. However, power level is the most important factor even thought that is a bit ambiguous in some cases. Not so with the outliers, like P9, that is
crystal
clear. Things can change depending on what you are measuring though. I just thought this would be neat to look at if anyone hasn't seen it, check it out. It's pretty fun.
A few criticisms. The list is actually very good and not much I would change, at least at the time it was made.
Add (obvious omissions)
:
Cavern of Souls
: Cavern is nuts. Really good with Vial or with other 5 color lands in tribal decks. An extremely important card in many different decks, good even if you want just one uncounterable Primeval Titan or Thassa's Oracle. If you're casting dorks there is a good chance you want this. It even color fixes!
Demonic Consultation
: At worst about as good as Vampiric Tutor. At best? Better than Demonic Tutor and combos with Thassa's Oracle. A big oversight. Consult is real good.
Chalice of the Void
: Whilst 3Ball was restricted faster than Chalice it's no less brutal. Even though neither did anything in Standard at the time, Chalice of the Void has been very good in a lot of other formats and when it is good it is backbreaking. Another oversight. Trinisphere only sees play in dedicated Prison decks where Chalice has been adopted by various archetypes.
Stuff to Change
:
City of Traitors
: Should be included with Tomb probably because they are often a package deal... but not always. Also, just much worse. So I can see why they didn't include it.
Wheel of Fortune
: WAY too low for how fucking busted it is. This is ridiculous.
Ponder
: Probably too low, honestly.
Preordain
: Probably shouldn't be on the list since it's much worse than Ponder.
Hymn to Tourach
: In my estimation, there is no other card in the game that so easily creates non-games with very, very little effort. Should be higher.
Bloodbraid Elf
: Hasn't aged particularly well. Maybe it shouldn't be on the list?
Jace, the Mind Sculptor
: Is way too high. Also didn't age very well.
Gifts Ungiven
: Not high enough?
Chrome Mox
and
Mox Diamond
: slashed with
Mox Opal
? (i.e. moxen that boost particular strategies)
Basic Lands
: Special games pieces don't count.
Cryptic Command
?
Counterbalance
?
Dismember
?
Ancestral Vision
? Probably shouldn't be on the list.
Historical Consideration
:
Fact or Fiction
: Restricted in Vintage once upon a time. Really good in all formats, still sees a little play in Modern today.
Intuition
: Good in older formats with AK. Still played a bit today in Legacy.
Psychatog
: No other creature has dominated every format for singularly before or since. Scales really well with quality of card draw and spells. Deserving of a spot.
New stuff post 2018 to add:
Uro
,
Oko
,
Lurrus
,
Field of the Dead
,
Wrenn and Six
,
Hogaak
, etc.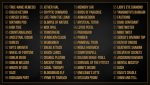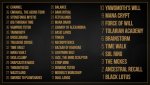 Last edited: