When I think of what to write about for threads like this, I have this recurring thought process that goes something like...
I should write about cards that aren't from the 90's. It's not like I stopped playing Magic in the 90's. There's this card I've been using a lot in EDH and in Canadian Highlander.
I don't want to just write about Highlander formats! 60-card decks with 4-card playsets is the right and proper way to play Magic.
I haven't been playing a lot of 60-card decks lately. What's a card used in those decks that I have fond memories of?
Well, there's this card from the 90's.
At the moment, and really for the past few years, most of my gameplay has been in some kind of "Highlander" format, specifically Commander/EDH and Canadian Highlander. I've been having fun with those formats and I don't feel bad for playing them, but I have this lingering bias that in some way they don't count for as much as games with full playsets of cards allowed would count. I guess what bugs me is that a bit further back in time, I started to notice people who
only
play EDH and don't touch other formats, and I found the idea off-putting. My focus on Highlander formats has very much been a product of where I play and what my friends play. I never set out to be a Highlander specialist. And yet, that's pretty much been my identity since 2018. Even before that, I was probably focusing on EDH more than I'd been meaning to.
So my New Years Resolution is to stop feeling guilty about that and just write about cards I've used in Highlander formats if I want to. Wait, it's still November and I don't do New Years Resolutions anyway? Oh well. I'm still going to stop feeling guilty about it.
For now, I'm not deliberately steering into matter specific to EDH. If you want to know about my favorite commanders, there's probably plenty I've already written about most of them, and more I could say somewhere else. What I really have in mind are cards that are just broadly useful, but ones that I didn't really appreciate until I started running them in Highlander decks. This encompasses almost all of my favorite cards from the past 5 years or so. I did do a Magic Memories thread for Evolutionary Leap, but almost any card newer than that is something I'd have been more likely to use in Highlander formats than in what I still think of as "normal" Magic. Even the Evolutionary Leap thread had to lean on my usage of the card in a computer game (Magic Duels). And looking back at my notes for Highlander games, there's been no shortage of other cards from around that time period, or even later, that I've really come to appreciate. So now here it is, the Magic Memories thread for the newest card I've started one of these threads on so far.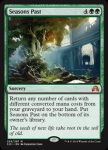 Seasons Past was released in 2016 and it has proven itself as one of my favorite green cards.