I've said before that I'm convinced the very first Magic card I saw was Teremko Griffin. It's quite likely that I was shown multiple cards from
Mirage
on that occasion, but Martin McKenna's striking art with the eagle head in the extreme foreground, the distinctive spotted coat in the middle layer and the rocky mountaintop in the background made this a memorable common even to an 11-year old with no knowledge of the game. While the first cards I was shown as examples were from
Mirage
, my earliest actual gameplay experiences didn't meaningfully involve
Mirage
cards. The first cards I owned and built deck with were from
Portal
and
Fifth Edition
. When I sought out more cards, the ones most accessible to me were "old" bulk cards from
Revised Edition
,
Ice Age
,
Alliances
,
Fourth Edition
,
Fallen Empires
,
Homelands
, and
Chronicles
. I also picked up some sealed product from
Portal Second Age
and tiny amounts of other sets. Until around the time
Urza's Saga
came out and I built multiple decks based around those new cards, then began trading more and exploring options for improving my decks, I had very little to do with sets outside the ones I just named. There remain some scattered memories of a few cards.
I acquired a Sage of Lat-Nam. It was my only card from Antiquities, and I was fascinated by it. I wanted more cards from that old set, but they were either too expensive for me to purchase or otherwise not that easy to find.
I saw Knights of Thorn and really liked the art. I forget if I actually owned the card myself, but I don't think I played it, so it was probably something I played against.
I picked up a few commons from Arabian Nights and Legends, but generally ones I already owned Chronicles copies of, and I forget how I learned the difference. I mean, the white border is pretty obvious, but I forget where and when I learned what that actually meant.
Some kind of resinous material contaminated the top left corner of my Arabian Nights copy of Abu Ja'far. I still own that card. I actually bought a second copy just so that my full set didn't have the ugly crap on the first card in the binder.
And of course, with how
Ice Age
sort of started to take over my collection, I came across Polar Kraken.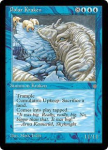 As I think everyone reading this is well aware, Magic on the world wide web was not the way it is now. There was no Gatherer, and even a simple set checklist was something that took some digging to find. Easier to just use
Scrye
magazine for that sort of thing. The book that came with the
Portal
gift box had full card images of the entire set, and I'd never seen anything like that. Through the book, I was introduced to a card I looked for, but couldn't find a copy of to add to my collection.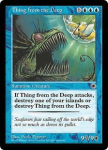 I really liked the art, and it was the biggest creature I'd ever seen. Then I found Polar Kraken, and it was even bigger! Am I a "Timmy"? Maybe. For whatever reason, either because I was misled or because I made an assumption, I believed that Polar Kraken was the biggest creature in the entire game. Phyrexian Dreadnought already existed at this point, but I had never seen one. Like I said, I started out with cards from
Portal
and
Fifth Edition
, but then the cheap stuff I was buying after that point was mostly older. I did own some cards from
Tempest
and also from
Mirage
, but they were large sets, and it would be a while before I'd glimpse every single rare. Phyrexian Dreadnought was wholly unknown to me. In 1999, I was Exhuming my Polar Kraken in blissful ignorance, erroneously confident that I had just summoned the biggest, baddest, nastiest, scariest creature you'd ever see.
Speaking of the biggest, baddest, nastiest, scariest creature you'll ever see, that's exactly how I first met Phyrexian Dreadnought. Someone at a game store was using B.F.M. from
Unglued
.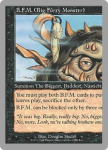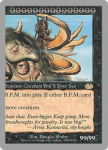 The flavor text mentions "krakens and dreadnoughts for jewelry." And the art had a Polar Kraken as an earring. But what, I asked, was the earring on the other side? So then an experienced player decided to explain the entire joke to me.
"Yeah, I already know that Polar Kraken is an 11/11."
"And Phyrexian Dreadnought is a 12/12."
"What?"
"Phyrexian Dreadnought."
"It's a 12/12?"
"Yeah."
"When did that come out?"
"Mirage. It costs 1 mana."
So yeah, my mind was blown.
Last edited: