In the Memories thread for Hypnotic Specter, the discussion turned to some analysis of how cards can get worse over time. It's happened a lot. Broadly speaking, old cards either become weaker with age or stronger, and I suspect that the former is more common. Many classics have faded from their seeming peaks of power. And for various reasons. Sometimes a card is made weaker, then bounces back due to some other change, only to be struck down again. Time Vault is the most extreme example of that, with more elaborate rules changes and Oracle text changes altering the gameplay value of the card than anything else seen in Magic. Most developments that help or hinder a card a stickier. The majority of old cards that were weakened by a change or series of changes took a hit and
never
recovered.
Probably the biggest factor in the downfall of old Magic cards could be abbreviated "power creep." New stuff comes along that either does a better job than the old stuff did, or new stuff comes along that the old stuff can't effectively fight. In my example of Hypnotic Specter, it was almost entirely the latter. No new cards were coming out that
replaced
Hypnotic Specter. It remained the most cost-effective creature in the game for hitting the opponent with evasive damage while simultaneously forcing discards from hand. Still has that title. Instead better removal, faster game pace, more graveyard synergies, and other factors changed the landscape and changed the risk/reward analysis of running something like Hypnotic Specter. Now, "power creep" isn't really one thing. It's a mixture of myriad factors. But as a general concept, it captures most of what happens when once-strong cards seem to become weaker with time.
Sometimes, though, it's not power creep, but functional changes. The aforementioned Time Vault was, for many years, a roller-coaster of functional revisions. From 1999 to 2016, Winter Orb lost its functionality of becoming "turned off" when tapped, which killed the old Winter Orb + Icy Manipulator combo (until
Eternal Masters
brought it back). But most cards that got weaker due to rules changes have stayed weaker to this day. Here are some examples that are prominent in my mind...
Power Sink: With the Sixth Edition rules changes in 1999, technically all cards with "Interrupt" or "Mana Source" as a type got at least a tiny bit weaker. In some cases, the opponent being able to respond to your interrupt/instant with a regular instant could be the difference between winning and losing. Perhaps uniquely among the old interrupt spells, Power Sink really leveraged its identity as an interrupt. Opponents were stuck either paying X or not paying X, and didn't get a chance to respond with instants, nor with activated abilities that didn't specify that they were interrupt-speed or mana sources. I seem to remember that WotC published something mentioning that this was the inspiration for the "Split Second" mechanic. Against opponents running sorceries and creatures and such, Power Sink still does its job. But the card really lost its edge in 1999 and has never been quite as good since then.
Mirror Universe: Another victim of the Sixth Edition rules overhaul. In the late 90's, Mirror Universe was quietly picking up momentum in older tournament formats as a kind of combo finisher. Any spell or activated ability that could be used to pay life during one's upkeep could be used to go to 0 life, and then Mirror Universe would switch life totals. It was becoming increasingly easy to set up such a combo with a six-mana artifact, and Necropotence was already a very strong card and a life payment outlet. Eventually, power creep and other indirect developments would have checked the success of dedicated Mirror Universe decks, but I suspect that the card could have been a powerhouse well into the 00's if the rules change hadn't hobbled it. More famously, but to what I contend was a lesser degree, Infernal Contract took a hit from this same rules change, losing its potency as a main phase combo deck tool for an all-in kill.
Orcish Oriflamme: Hilariously, this card was once restricted in tournament play. It was misprinted in the
Alpha
version of Limited Edition, with a mana cost of 1R instead of the intended 3R. Earlier this year,
Modern Horizons
created a tribute to this with Goblin Oriflamme, a functional reprint of the original
Alpha
version. Once again, goblins prove themselves to be better than orcs. As plenty of analysts have pointed out, the 1R version is kind of a mediocre card anyway. It's not a bad card, but its use is generally relegated to casual theme decks and to Limited gameplay. There are way better things to be doing for two mana in most Constructed formats. Bumping the mana cost up by 2 pushes it from the
below average
part of the playability spectrum toward the
utter garbage
part. For part of the 90's, Oracle text wasn't really an established concept and cards were supposed to be played as read, including misprints. This meant that the
Alpha
version of Orcish Oriflamme really did cost 1R (and that the
Alpha
version of Cyclopean Tomb could not be cast at all). The adoption of standardized rules text (WotC once published something detailing when and how this important change happened but I can't find an archival copy of it at this time, although I seem to remember that it was well after the 1994 unrestriction of Orcish Oriflamme) was a major blow to
Alpha
copies of this card.
Power Surge: I've written about this one before. I came across a few old documents describing Candelabra of Tawnos + Power Surge as a potent combo, but I was unclear on the intended audience or usage. I built my own "Candelabrasurge" deck in the old Microprose PC game and it was a favorite of mine. I couldn't put the deck together in paper because I didn't own any copies of the Candelabra. I was never clear on how popular this combo was. My deck was entirely my own invention, but I saw the combo itself mentioned in a magazine (either
Scrye
or
Inquest
or, now that I think about it, quite possibly both). I've never seen any record of the combo making a splash on the Pro Tour or anything. Much later, some of my unrelated internet searches turned up information that Mark Justice used Power Surge in tournaments. But yeah, this card took a
huge
hit, as it was designed very specifically with mana burn in mind. Power Surge wasn't the only card to suffer from this change (Citadel of Pain and Eladamri's Vineyard spring to mind), but it does seem to have suffered the biggest blow.
Burning Wish: For a time, this card was restricted in Vintage. The "Wish" cycle of cards from
Judgment
borrowed the concept originally used on the much clunkier Ring of Ma'Ruf, grabbing cards from outside the game. Until the major rules overhaul in 2009, there was no "exile zone." Instead, cards were
removed from the game
. In tournament play, the ruling was that Ring of Ma'Ruf could get either a card that was in one's sideboard or a card that was in the player's maindeck and had been removed from the game. The original wording made this abundantly clear. "This can be any card you have that you're not using in your deck or that for some reason has left the game." When WotC created the exile zone, they decided that Ring of Ma'Ruf and the "Wish" cards would no longer work on cards in "exile" because it was a "game zone" even though the cards had always functioned in that way up to that point (and even though the printed text on Ring of Ma'Ruf had an extra sentence of explanation stating that this was how it was supposed to work). Burning Wish is still a pretty good card and didn't lose
that
much to the rules change, but it did lose something.
Out of all of the cards that became weaker due to rules changes, the one that stands out the most in my mind, the one that perhaps fell the furthest because it had been such an unmitigated success, was Mogg Fanatic.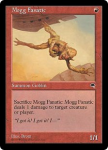 Although it was printed under Fifth Edition rules, it wasn't long before the Sixth Edition rules changes took over, and it was then that Mogg Fanatic really began to shine.
Last edited: